Nothing says the holidays have arrived like driving through your neighborhood and seeing the houses decorated. If you don't have the time or money to decorate the entire exterior of your house, consider one of these seven ways to spruce up your garage door as a quick alternative.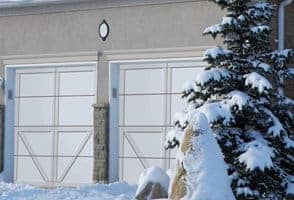 Wrap it up. You've seen plenty of front door wrapped up as Christmas presents, and you can do the same thing with your garage door. To save on costs, consider buying paper in bulk from your local craft store or sew a few festive sheets together and add paint or tape for the finishing touches.
Holiday lights. For an even quicker decorating idea that you can incorporate into your overall outdoor holiday decor scheme, try adding twinkling lights to the garage door. Lights with the oversized bulbs are ideal, and running them around the frame of the door ensures you get full functionality all season long.
Murals. Make a big commitment and show off your artistic side, and paint a mural on the garage door to ring in the season. Consider using a winter theme instead of something overtly Christmas so you can keep it up and enjoy it longer than just December.
Holiday wreaths. For those who don't want to overwhelm the house, a tasteful holiday wreath on the garage door is a great way to add just a touch of festive spirit. Since a wreath is small, you can go all out with the glitter, holly sprigs, and even a snowman accent.
Projector. Perfect for those who rent or don't want to make permanent cosmetic changes, a projector in the yard facing the garage can let you put a holiday scene up for everyone to enjoy after nightfall.
Decorative magnets. This is another quick accent-type decoration for those who don't want to go all out. Test you door to make sure regular magnets will stick and keep placement in mind if you will be going in and out a lot.
Vinyl stickers. These clings designed to stay put longer and be more durable than regular window stickers. Spell out a holiday greetings with text or create a collage of your favorite winter characters.
Add to the wintry magic of the holiday season by putting some festive touches on the garage door for the locals to enjoy.